Maritime Surveillance / Search&Rescue
Maritime aerial surveillance is demanding and life-critical. Especially the refugee crisis motivated us to develop a highly flexible and reliable system to detect shipwrecked people and life-boats even at rough sea conditions. Our civil drone system includes a software solution and optical radar which automatically discover small objects in EO/IR full motion video (FMV). This automated technique ensures that environmental conditions such as clouds, sun glare or white caps don't have an impact on the success of maritime patrol and Search & Rescue operations.
Our civil drone espies what human eyes might miss!
The advantage of using the UniversalUAV instead of helicopters for such missions is not limited to significant cost saving. Long term missions are exhausting and weather conditions at sea unpredictable – an Unmanned Aerial Vehicle is capable of saving lives without endangering the pilots. Additionally in case of emergency our system doesn't need a long preparation time before accomplishing your mission. Take off and landing is automatically controlled.
Recommended UniversalUAV mission-equipment for this use consists of the following main components:
UAV-Sensorics: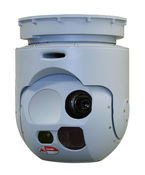 Wescam / MX-8
Daylight camera
Infrared camera
Laser range finder…
Generic Ground Station S/W: