Inspecton of Oil-, Gas- and Powerlines
Damages in insulators of power lines may lead to a complete breakdown of the power supply network of a whole region or even country. Hence, regular investigations of insulators are necessary to detect damages at an early stage. At present this is done with helicopters that carry infrared cameras and in most cases the infrared pictures are judged on-board by the pilot or an observer. This approach is extremely expensive and ineffective.
The UniversalUAV offers a fully automated investigation procedure by using the Wescam MX-10 with its Auto-Slew Capability. Since all Powerline poles are at a fixed and known position, the analysis of damaged insulators can be done during fly-over without stops. A real time software that analyses the transmitted pictures in the Generic Ground Station gives an alert when detecting a damage and timestamps the GPS location of the mast on the video streaming server. By using an additional Corona Camera the damages can be identified with higher safety.
Recommended UniversalUAV mission-equipment for this purpose consists of the following main components:
UAV-Sensorics: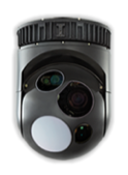 Wescam/MX-10
Daylight camera
Infrared camera with Auto Slew
Laser range finder
Auto Slew Function
CORONA Camera

LIDAR System

Operating Flight Altitude 900 m
330° FoV